Erovi's aphrodisiac kitchen

Ljubomir Erovic, festival founder, over 25 year is preparing specialties from animal testicles. In 2008. he published 'The testicle cookbook' for Yudu from London. Check why eating testicles work as aphrodisiac and other things connected with balls.

---
Are you first time cooking with balls?
In that case you have to know how to prepare testicle meat for cooking. Check recipes with testicles.

---
About testicles
Testicle nutrition, check the benefits eating testicle meat, minerals, hormons...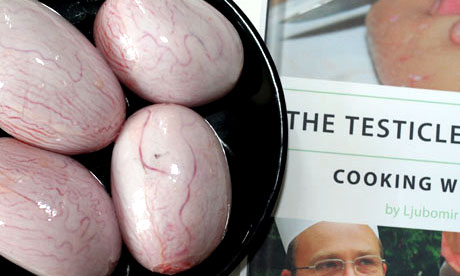 Cocktail with testicles 'BOURBON WITH BALLS'
by Stefan Candby Petersen from Danmark (Coming on festival 2013, confirmed)

Stefan is inovator of this unique drink with balls. Check the interview with Stefan and recipe how to prepare cocktail. Enjoy!

---
TESTICLE SPECIALTIES VIDEO
Testicle pizza
Testicle pie
Erovic's testicle goulash
---
BALL CAKES

Tradition in Serbia is that after eating good food, something sweet must be served. Women on the festival likes to make sweet their men.

---
DO YOU HAVE SOME IDEA OR CREATION FOR THE BALLS? SHARE WITH US, SEND US YOUR SPECIALTY, VIDEO, SHOW UP ON THE FESTIVAL, WE WOULD PROMOTE YOUR WORK!